Northern California Manufactured Home Dealership Service Area.
Factory Direct Homes, is a division of Golden Pacific Homes Inc. We opened our first manufactured home store in Oregon, 1983. In 2004 we moved our headquarters to Chico California. We have offices on Hwy 99 in Chico and along i5 in Corning. Our home experts install homes throughout California, Oregon and Nevada.
Serving Northern California, Oregon and Nevada
Factory Direct Homes ships new manufactured homes to a variety of locations in the Western United States. Our homes are built for durability, longevity, and use more steel than most manufactured homes providing solid framework for your safety. Roofing materials include non-toxic cellulose insulation which keep your home cooler in the summer and warmer in the winter. In addition, our homes offer many energy efficient options including EnergyStar certified appliances. Our costs are more competitive than traditional homes because they're factory built. Our prices retail 40% lower due to tremendous savings on construction and labor costs. As one of the top modular home manufacturers, Factory Direct Homes is recognized for selling high quality manufactured homes. We take pride in providing excellent sales assistance throughout the entire process of your purchase. All of our factory built homes offer many customization options allowing you to make necessary adjustments to your home to ensure it is up to your standards. Some of our customization options include upgrading from a standard bath to a glamour bath, or upgrading your kitchen to a designer kitchen. Learn more about our customization options. Factory Direct Homes ships new manufactured homes anywhere in the western United States! Below is a list of some of the more common areas we serve. Don't be discouraged if you don't see your city below, simply call us to verify your location at 530-895-5540!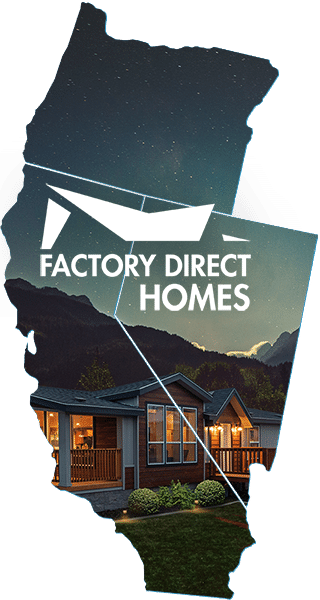 Hwy 99, Chico, California
Our Manufactured Home Dealership Installs Homes in the following California Cities